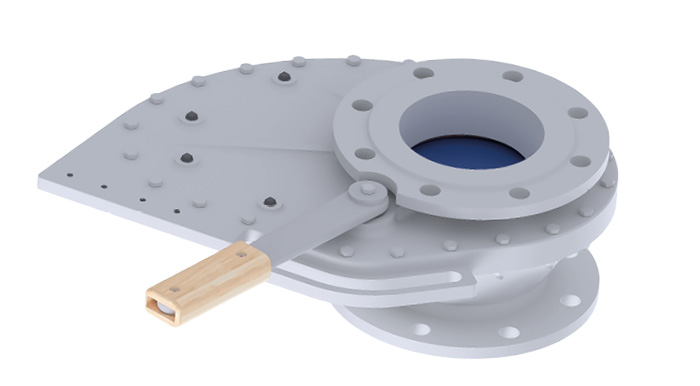 High temperature swing gate valve KU-HT
Pressure-/vacuum swing gate valve KU-HP-PAM
The swing gate valve Type KU-STD is designed for permanently safe shut-off, metering, infeed and/or discharge of dry, free-flowing bulk materials, even under critical operating conditions such as high switching frequency, short cycle times, abrasive products etc.
Totally dust-, gas- and pressure-tight to the atmosphere (up to 1,5 bar).
The swing gate valve KU-STD can be equipped with various actuations and can be fully adapted to your operating conditions in terms of nominal dimensions, cross-section and material.
Extremely short opening- / closing intervals about 1s – independent of size(< 1sec)
Especially suited to cover the most demanding task assignments an bulk materials
Dust-, gas- and pressure-tight to the atmosphere up to 1,5 bar
Ideal as a operating valve even at high switching frequencies
Completely encapsulated housing
Wide range of materials (cast steel and stainless steel, various aluminium alloys)
Valves designed according to PED (Pressure Equipment Directive) AD 2000 incl. TÜV-Testing
ATEX-compliant version optional, as per specified requirement
Available in sizes up to DN500 (DIN) / 20″ (ANSI)
Shutting off material flows without any problems
Hand lever
Electro-pneumatic
Electro-pneumatic with positioner
Electro-motoric
Hydraulic
Intermediate positions for metering
Ex-protection of actuator, solenoid, limit switch and junction box
Non-stick coatings
Special flanges
ATEX certificates on request
Technical data without guarantee. Customised design (voltage, power, speed, protection class, etc.) can be implemented.
| | |
| --- | --- |
| | >> High temperature Swing Gate Valve KU-HT |
| | |
| --- | --- |
| | >> Pressure-/Vacuum Swing Gate Valve KU-HP+PAM |