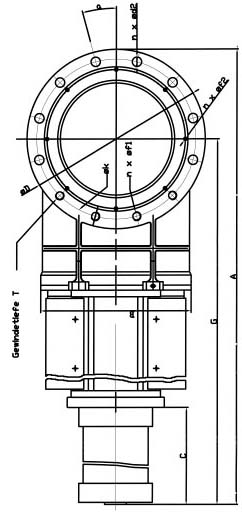 Pressure-/vacuum slide valve ZFB+PAM
Flat slide valves in welded construction
Pressure-/vacuum slide valve GAS+PAM
The knife gate valve ZFT – or intermediate flange valve – can be used in both flow directions, vertical or horizontal. It is often used as an emergency shut-off valve or partial separator and can be installed as an intermediate or end valve. Product and pressure-tight In the passage, the valve shus-off free-flowing granular bulk materials as well as liquids.
DESIGN AND CONSTRUCTION
The symmetrically designed housing is characterised by its low height. Regardless of the installation position, the ZFT knife gate valve has no separation space in which the medium could accumulate in the housing.
FLANGE
The ZFT knife gate valve has exclusively round flanges according to EN1092 and ANSI B16.5 and can be supplied in nominal sizes from DN50 up to DN1200 (EN) or NW2″ up to NW50″ (ANSI).
SEALING
The housing is not encapsulated. An adjustable stuffing box packing, which completely encloses the gate valve, ensures the pressure sealing of the housing against the atmosphere. Depending on the medium, you can choose between PTFE or graphite.
CONFIGURATION
Our ZFT knife gate valve has a modular design and can be equipped with different slide gates, sealing profiles and stuffing box packings depending on the medium and your requirements. You can choose from a wide range of different actuators, both manual and automatic.
SPECIAL DESIGN
An ATEX-compliant version of the ZFT knife slide valve is also possible.
The reliable ZFT shut-off valve offers a low-maintenance and easy-to-monitor solution.
Product and pressure-tight in the passage, gas-tight to atmosphere
Lowest height
ATEX-compliant version optional, as per specified requirement
Available in nominal sizes up to DN1200 (DIN) / 50″ (ANSI)
Wide choice of materials (steel, stainless steel or cast aluminium)
Adjustable stuffing box packing made of PTFE or graphite for sealing the gate valve against the atmosphere.
Simple operation monitoring, without removing the slide valve
Low maintenance
Hand lever, chain drive
Electro-pneumatic
Electro-pneumatic with positioner
Electro-motoric
Hydraulic
Intermediate positions for metering
Non-stick coatings
ATEX certificates on request
Technical data without guarantee. Customised design (voltage, power, speed, protection class, etc.) can be implemented.
| | |
| --- | --- |
| | >> Flat slide valve ZFB |
| | |
| --- | --- |
| | >> Welded construction slide valve |