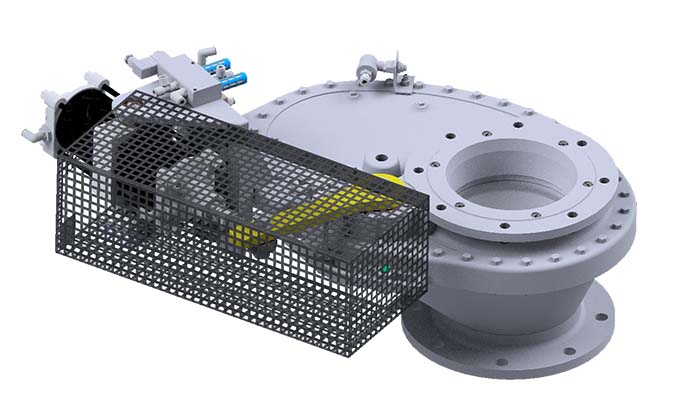 High temperature swing gate valve KU-HT
Pressure-/vaCuum swing gate valve KU-HP-PAM
DO YOU HAVE ANY QUESTIONS ABOUT RESISTANCE OR PRESSURE TIGHTNESS?
We have resistance lists and data sheets on norms and limit values for all materials!
Ask us!
presSure-/vacuum swing gate valve KU-HP+PAM
The swing gate valve Type KU-HP+PAM allows the steady and secure shut-off, metering, infeed and/or discharge of dry, free-flowing bulk materials, gases and liquids, and is especially suitable for high operating cycles and short cycle times.
After closing the swing gate, our proven Pressairmatic seal (PAM) inflates automatically and closes the product passageway absolutely gas-tight. The slide blade does not touch the PAM seal during the swinging move and thus additionally reduces abrasive wear on the sealing surfaces.
THE SPECIAL PURPOSE OF THE PAM SEAL
The inflatable Pressairmatic seal is an open-top U-section with an inserted clamp ring and stay bolts. Clamp ring and seal are placed together in a seal groove and screwed into the seat with seal nuts. The empedded Pressairmatic seal is protected against damage during the opening and closing process by pre-wipers on both sides, so that the seal does not come into contact with the medium.
The inflation process is controlled by an electro-mechanical actuator. Only electricity and compressed air are required to operate the valve.
When the valve reaches its closed end position, a pneumatic unit is actuated, which releases the compressed air for the inflatable seal with a time delay (approx. 1 sec.). The seal is inflated and presses against the gate blade surface. The closing zone is now material, gas, vacuum and pressure tight in both directions – provided that the inflation pressure exceeds the system internal pressure by at least 1.5 to 2 bar g. In the vacuum area, it must be determined whether a system vacuum is present after opening the gate valve. The Pressairmatic seal control must be set to this condition.
Extremely short opening- / closing intervals about 1s – independent of size (< 1sec)
Proven inflatable PRESSAIRMATIC-Seal
Pressure-tight up to 6 bar abs., vacuum-tight up to 2 mbar abs.
Dust-, gas- and pressure-tight to the atmosphere up to 1,5 bar
Ideal as a operating valve even at high switching frequencies
Completely encapsulated housing
Available with a wide range of housing materials (grey iron, cast steel and stainless steel, misc. aluminium alloys)
Valves designed according to PED (Pressure Equipment Directive) AD 2000 incl. TÜV-Testing
ATEX-compliant version optional, as per specified requirement
Available in sizes up to DN500 (DIN) / 20″ (ANSI)
Shutting off flowing material
Hand lever
Electro-pneumatic
Electro-pneumatic with positioner
Electro-motoric
Hydraulic
Intermediate positions for metering
Ex-protection of actuator, solenoid, limit switch and junction box
Non-stick coatings
Special flanges
ATEX certificates on request
Technical data without guarantee. Customised design (voltage, power, speed, protection class, etc.) can be implemented.
DO YOU HAVE ANY QUESTIONS ABOUT RESISTANCE OR PRESSURE TIGHTNESS?
We have resistance lists and data sheets on norms and limit values for all materials!
| | |
| --- | --- |
| | >> High temperature Swing Gate Valve KU-HT |